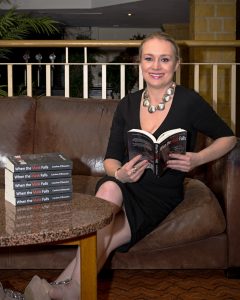 I love kickstarter and have used it to back many exciting projects from all over the world. So, when I made the decision to self-publish When the Mask Falls, of course I would want to give it a try. Not only would it allow me to raise the funds I needed to cover all the costs of producing an industry standard product, it was also new and exciting and it would also help me reach an new audience.
"I'm so excited to be able to say that I am Northern Ireland's first author to have successfully funded their kickstarter campaign!"
I knew it wouldn't be easy, only 36.2% of projects are successful funded but I had the support of some wonderful friends and family, and really, what did I have to lose?
So, on 31st February, 2018, after not enough planning, I launched my kickstarter campaign at The Wellington Park Hotel in Belfast surrounded by friends. I had a target of £3100 and 30 days to raise it.
I'm not going to lie, it was a stressful 30 days, but at lunchtime, on the very last day, I met my target with only a matter of hours to go – there were a few corks popped that night as I'm sure you can imagine!
After the hangover wore off there was work to do – I had a book to publish!
My kickstarter backers received their books in the April, and the book went on general release as a limited edition hardback, paperback or eBook, which you can buy either directly from me at an event, or via this website, or from Amazon.
I am so thankful to everyone that helped make that happen, whether it was by sharing the campaign with friends or by backing me with their hard earned cash, either way, I would not have succeeded without them and I will always be grateful for that.
I often get asked whether I would do it again and you'll have to watch this space to find out the answer to that – it changes daily!