What's New…
When the Mask Falls is now on general release, and has been since the 2nd June. It currently has five stars on Amazon and Goodreads which is awesome and you can get your copy on this very website or as an eBook from Amazon.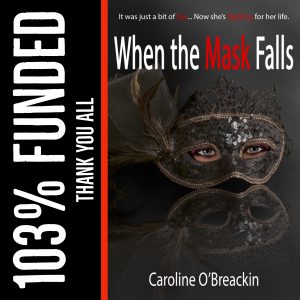 Thanks to National Novel Writing Month, I have a completed first draft of a psychological thriller called The Fourth Notch. Progress is slow, but I am working through it bit by bit, and am hoping to have it all polished and ready for a visit to my editor in the near future – fingers crossed!
When the Mask Falls successfully raised 103% of its target on Kickstarter which makes me the first author in Northern Ireland to successfully fund a novel using Kickstarter.
I am also providing content for Wifi Refugees and Zatu games.


Available for…
As well as content writing, I am also available for proof reading and manuscript evaluation. Get in touch for more information on what I can do for you.
Past Projects…
How to be the Perfect Pack Leader, by Caroline Jenkins. Published in 2009.
Various dog training and psychology articles published between 2009 and present, written under the name Caroline Jenkins.